---
Who we are and what we do...
The Scenic Hills is the local name given to a vast tract of gently rolling hills and valleys that cradle the city of Campbellown and provide its scenic backdrop. Running from Denham Court in the north to the Australian Botanic Garden at Mount Annan in the south and beyond, the Hills are rich in aboriginal and European colonial history, and one of the last remaining colonial rural landscapes left in the Cowpastures area. In 1974 Campbelltown City Council officially moved to protect the area for future generations by zoning it as an Environmental Protection Area. However, because of its location - 45 minutes from Sydney's CBD and 45 minutes from the Southern Highlands - the Hills have suffered ongoing encroachment from Sydney's growing population.

The Scenic Hills Association was formed on 17 March 2010 when it became clear that the Hills' zoning would not be enough to ensure its survival. At its core is a group of residents and landowners who live in or near the Scenic Hills, principally in the suburbs of Varroville and St Andrews but with "Friends" now extending across the Campbelltown area and as far north as Queensland. Read More.


Campbelltown's Scenic Hills
Environmental Pr
otection Area - yellow area on map.
(Right click on image to enlarge & view detail)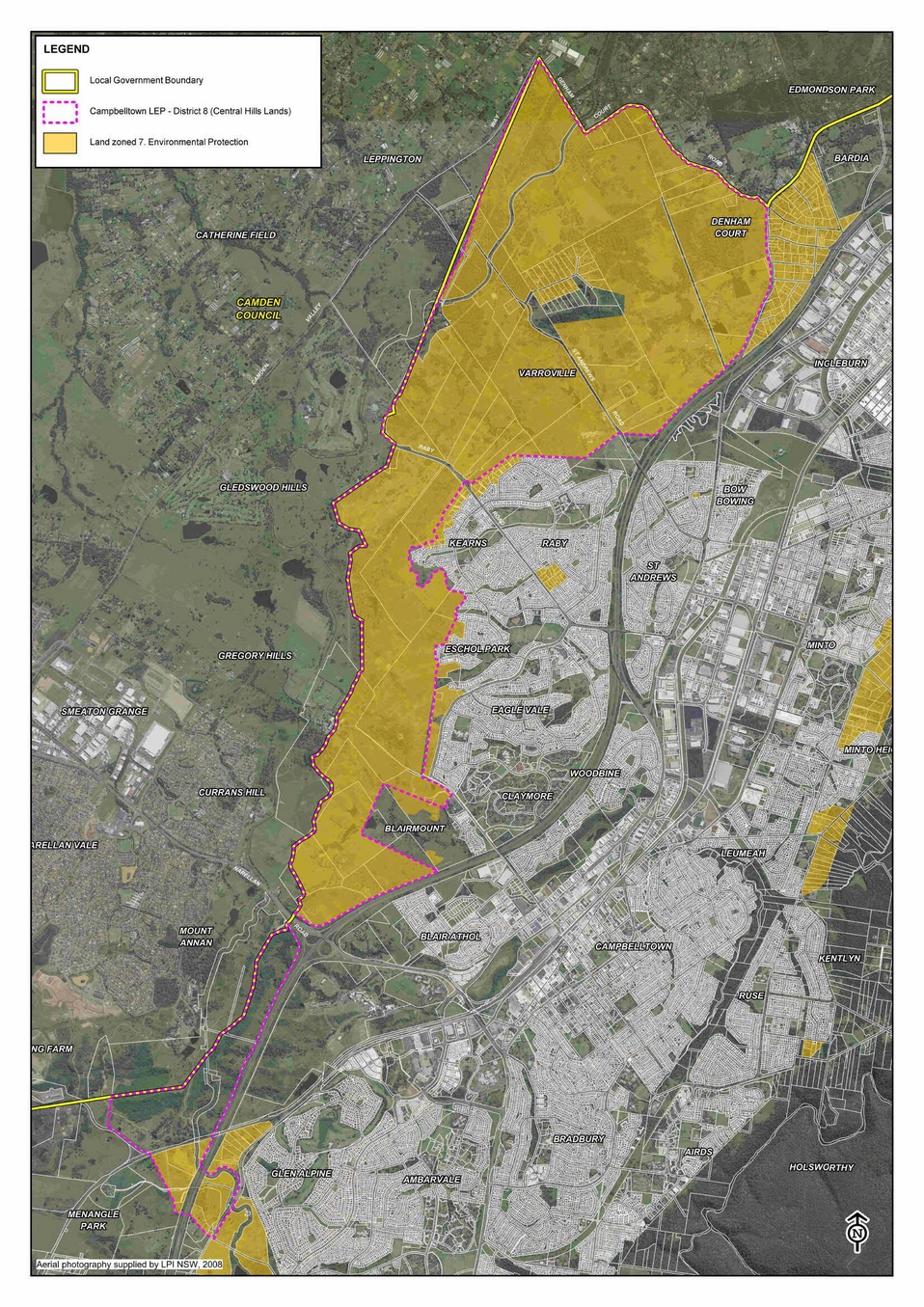 Note: The NSW Government has already taken the north-west corner of the mapped area for the South West Growth Centre. Now it wants to put a massive cemetery in its historic heart at Varroville!

17/9/16. LATEST NEWS. Labor gets 13% swing in Campbelltown Council Elections. Greens win a seat after 4 years absence. Read more
12/9/16. Catholic Cemeteries Trust's unwanted cemetery to go into our Hills, helped by two outgoing Campbelltown councillors...
The Trust has won its second round to have Campbelltown's Local Environment Plan 'amended' so it can put a massive 136,000 grave cemetery onto the historic core of the 1810 Varro Ville estate in the Scenic Hills Protection Area. The proposed cemetery is prohibited land use in the Hills and was rejected by Campbelltown Council in 2014. However the Trust lodged an appeal with the NSW Government's Sydney West Joint Regional Planning Panel (JRPP). Two Campbelltown councillors appointed in 2012 to sit on the JRPP have sided with government representatives to overturn their own Council's decision - just one day before they were due to stand down...but this was kept from the community until after Council elections. For Background, read these 3 pages: Fight for Hills
EVENTS. 5/10/16 (7pm). Macarthur Heritage Nature Talk. Read more